Dr. George G.Kalantzis
- Consultan Ophthalmic surgeon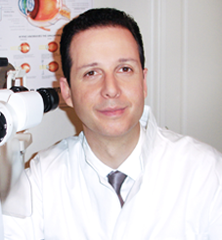 Having qualified in 1998 as a doctor, I spent two years in Greece as a medical officer in the Greek Army. I then completed my higher specialist training in Ophthalmology in Athens ("G. Gennimatas" Ophthalmology University Hospital). I have completed two Fellowships in Oculoplastics, Lacrimal and Orbital Surgery at Moorfields Eye Hospital in London and at St. James's University Hospital in Leeds.
Since February 2012 I have practiced as a Consultant at St. James's University Hospital and run several specialist clinics (Oculoplastic Clinic, Lacrimal Clinic, Orbital Clinic, Joint Thyroid Eye Disease Clinic, Botox Clinic) and general Ophthalmology clinics.
I am also an Honorary Senior Lecturer at Leeds University and an Honorary Consultant at York Hospital and Athens University Ophthalmology Department ("G. Gennimatas" Hospital).
I have over 30 peer reviewed publications and I am in charge of clinical research projects in Ophthalmology.